Some explanation about capabilities of the Video Strip Poker
---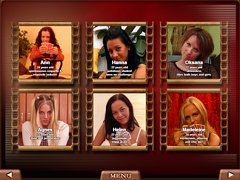 Opponent selection screen
The game is a unique and interactive player of strip-tease files (further called vsp files, that comes from file extension "vsp"). It makes Video Strip Poker extremely development-capable project. Video Strip Poker uses high quality video files played interactively, depending on situation. Such a solution has been never ever seen before in any strip-tease-like game.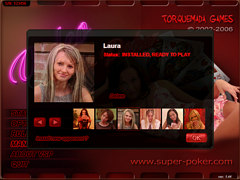 Opponent installation manager
OPPONENTS - every opponent has her (and, in future: his) own character and that means not only the difficulty level. Initial money amount, offensiveness, number of clothes to undress, tactics can vary depending on opponent. She or he even doesn't have to undress anything - instead the digital opponent can do anything else to tease the player, either during or after the deal. That depens on the opponent creators. Even the sound background can vary and can be different for every opponent. It can be either video dependent or video independent. New opponents can be installed from *.vsp files.

It's worth saying that there has been created special tool module allowing to create new opponents for Video Strip Poker filexibly and quickly.
---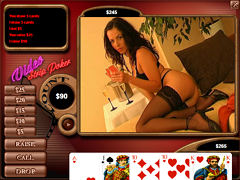 Main screen using the default theme.
POKER - in Torquemada Games' Video Strip Poker you play well known "draw poker". You can choose the card set (32 or 52 cards). 32 cards give you more dynamic and faster deals. Both versions, 52 and 32 card, don't use jokers. Also, please note, that the value of "flush" is different. Beginner players can enable "prompter" which can be helpful while choosing which cards to draw.


---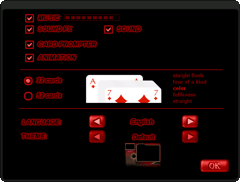 Options screen.
THEMES - placement of buttons, video window and graphics on the screen depend on chosen theme. This applies as to the opponent choice screen as to the main game screen. Also, you can create your own themes for VSP. Using the themes you can, for instance, resize the video window from the matchbox size to almost fullscreen size. Some examples are available in extras->skins section


---
LANGUAGES - the game has been designed to be completely multilingual. There are eight languages in basic distribution of the game: english, german, spanish, french, italian, russian, czech & polish. New translations to come. For additional translations visit extras->languages section.


---
SYSTEM REQUIREMENTS - although the game uses compressed video material the system requirements are very reasonable. Video Strip Poker runs even on a computer equipped with Pentium 200 processor, 32 MB of RAM, PCI 800x600x16bit graphics card, sound card, CD-ROM and minimum 200 MB HDD disk space. However, to get a comfortable conditions it is recommended to install the game on a computer equipped with Pentium 300MHz - 500MHz class processor, PCI or AGP graphics card, multichannel sound card, CD-ROM 32x, and 700 MB of hard disk space. The game requires MS Windows 98/ME/2000/XP.